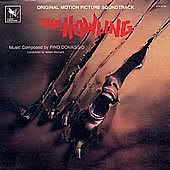 Here is the full soundtrack by Pino Donaggio for the flick "The Howling". The best, in my opinion, werewolf movie of all time. Fantastic special effects, great looking monsters and a fun "monster movie" story. The score is my favorite of Pino's work, it really seems to capture the feeling of the movie and it's classic creatures.

If you are a fan of Pino's work then check out recent posts on the Manchester Mourge and Night Chillers blogs. They have some of Pino's other work as well as some other great posts!
"You can't tame what's meant to be wild, doc. It just ain't natural. "