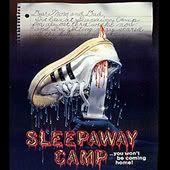 Today I have the track "You're Just What I've Been Looking For (Angela's Theme)" from the cult classic 80s slasher film Sleepaway Camp.
I actually just saw this for the very first time last night.
(This was a post I did back in 2007, but with 2011 Halloween around the corner I thought I'd unearth this gem from my archives here.)
I was a child of the 80s and knew about this movie forever, but somehow never got around to watching it. Well last night I was able to watch what I thought was one of the strangest, weirdest, corniest horror flicks I've ever seen. I don't know if I can say it's a favorite.. yet. I need to watch it a few more times. I definitely can see where fans hold this flick special in the hearts/memories... especially if they watched it back when it was originally released.
The track I have here is what plays over the end credits and it quite catchy. I really love it! This is a DVD audio rip that I made here. I don't know if there was any official or bootleg soundtrack released of the 3 songs from the film or not. If anyone has a better sounding version than this I'd love to check it out, that being said this sounds pretty good for a DVD rip.
"How come Angela gets to talk to the boys all day, and WE have to play volleyball? "
Link is dead