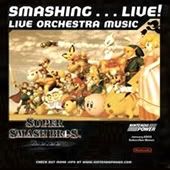 I know this isn't movie related, but its entertainment... video games that is. This is the album for the game Super Smash Bros. Melee for the Nintendo Gamecube. This album came out back around the time the game first came out and was part of a special gift to Nintedo Power subscribers.

The in game music here is performed by the Japan Philharmonic Orchestra which is very enjoyable twist to classic Nintendo themes, especially for fans of Super Smash Bros. Melee or Nintendo fans in general. Enjoy!
Download the full soundtrack here!
Track list:
1. Planet Coreria - 2:06
2. Jungle Garden - 2:57
3. Hyrule Temple & Great Bay - 4:15
4. Dr. Mario - 4:04
5. Original Medley from Smash Bros. 64 - 5:00
6. Fountain of Dreams - 3:35
7. Pokemon Medley - 5:42
8. Opening from Smash Bros. Melee - 2:40
9. Venom - 2:19
10, Yoshi's Story - 2:43
11. Brinstar Depths & Brinstar Zebes - 3:41
12. Smash Bros. Grand Medley - 14:18
13. Fire Emblem - 3:52
14. Green Greens - 1:53
15. Rainbow Cruise 2:49