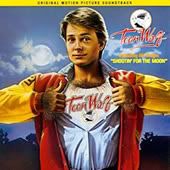 Today I have the soundtrack to the 80s comedy "hit"
Teen Wolf
starring Michael J. Fox. I think there are people who love the flick or just plain hate it. I'm on the love side of things for this one including the soundtrack. However, to me the best tracks on here are from the original score composed by Miles Goodman. Those songs are absolutely fantastic. Specifically, the are the songs that play when Scott transformes into the wolf in the bathroom and when Scott and Boof have a small heart-to-heard conversation.
The rest of the soundtrack is 80s pop type stuff and if you are a fan of the movie you'll definitely dig them.
"
Look Scotty, I know what you're going through. Couple years back, a kid came to me much the same way you're coming to me now, saying the same thing that you're saying. He wanted to drop off the team. His mother was a widow, all crippled up. She was scrubbing floors. She had this pin in her hip. So he wanted to drop basketball and get a job. Now these were poor people, these were hungry people with real problems. Understand what I'm saying?
"
Download the soundtrack here!