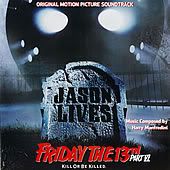 Today I have a treat in the spirit of Halloween and those of you that want to add to your halloween party background music as well as hard core Friday the 13th fans that have agonized on finding a score to "Jason Lives." I've created new album art for this one as the album art that was floating around out there for this soundtrack was pretty ugly and all around bad quality.

Open up your halloween big for this massive 58 track download. It contains all of the cues from the film that as far as I know was taken from an old DAT tape of the film or a supposed release that is long since out of print. As a bonus to the Harry Manfredini music you'll also get the Alice Cooper and Felony songs that appeared in the flick. This is quickly becoming my favorite Friday film. I watch them enough my favorites tend to change like the wind.
"Jason's not in his grave! Hawes is. Dig it up! You gotta dig it up! You gotta dig it up! "