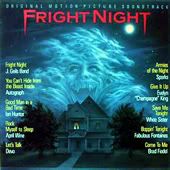 Here is the various artists soundtrack release to the horror classic
Fright Night
, one of my top 10 favorite movies ever! The soundtrack is also one of my favorite soundtracks as well. This soundtrack has been out of print for a long time, but there are many
Fright Night
fans that I'm sure don't have this in their music collection.
The movie is a terrific mix of horror and comedy, that as far as I'm concerned is the best vampire movie ever! I won't go on and on about this one because if you've gotten this far then you know exactly what the soundtrack has in store for you.
"Oh, you're so COOL Brewster!"


Download the soundtrack here!