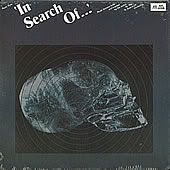 Here is a soundtrack that has been long out of print that I was looking for, but knew very little about. It's the soundtrack for the old television series that ran from 1976 to 1982"In Search Of..." hosted by Leonard Nimoy. The show investigated paranormal types of topics and attempted to uncover the truths surrounding them.
One surprise that I can't say is good or bad about the soundtrack is that some of the songs seems like definite cues taken right from the show which I love, but other tracks have a heavy disco vibe going for them which includes the main theme. I would have liked to hear just straight music from the show along with the great into. However, as I listen to it more some of those disco infused tunes have grown on me. If you are a fan of the show I would recommend checking this out.
"This series presents information based in part on theory and conjecture. The producer's purpose is to suggest some possible explanations, but not necessarily the only ones, to the mysteries we will examine."